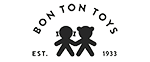 Beautiful Bon Ton Toys soft toy shaped like a puffin in blue with white details on the belly, under the wings and on the head. The puffin has an orange beak and feet.
The Bon Ton Toys soft toy is made of an extremely soft material that makes it fabulous to hug.
CE certified.
Bon Ton Toys donates a portion of the profits from the soft toy to WWF, an organization that helps build a future where people live in harmony with nature.
Dimensions:
- Width: 9 cm.
- Height: 20 cm.
- Depth: 13 cm.